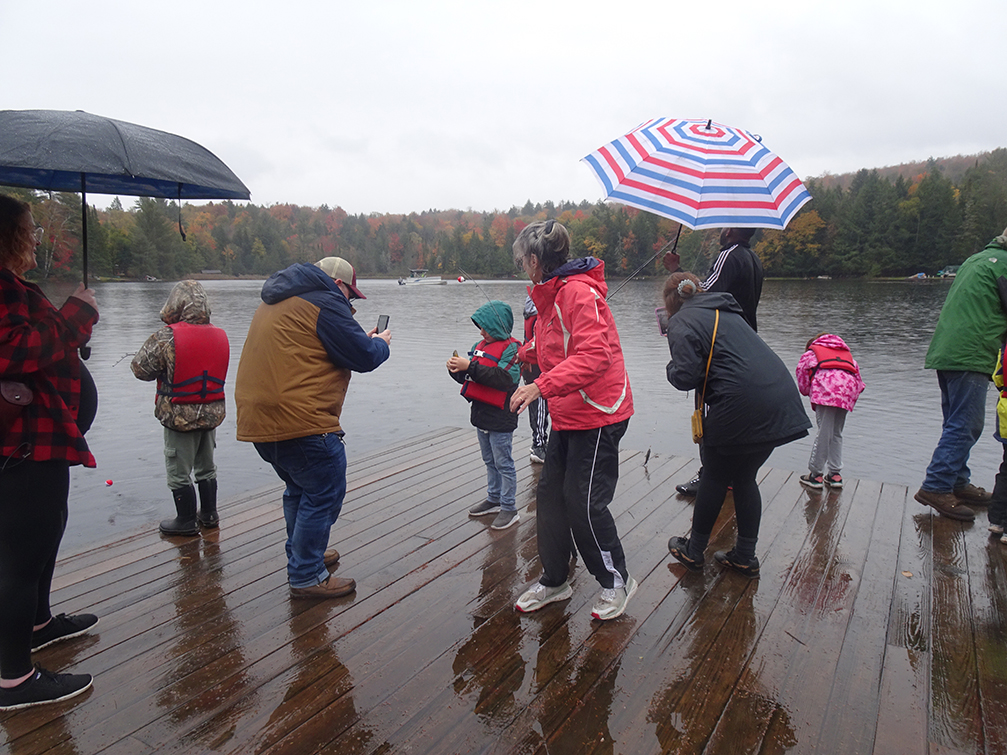 Outdoor Adventures with Gary Lee - 227
Adirondack Adventures vol. 227
My rain gauge says three inches this morning so since, Friday night until this morning 10/9 it had rained and several times, I was out in it over the weekend. We had a few dry Kids Day Fishing Days but not many so why start this weekend. It was wet, in fact pouring rain when we went out 10/7 with the first group of kids and some parents. You soon find out kids don't care, they just want to catch a fish so give them a pole and bait their hook and they are fishing. A few were dressed for the weather, others were just getting wet and catching fish. The fishing platform in Fifth Lake was a hot spot that morning and fish were flopping on the deck all morning, some got away. Sunfish of all sizes seemed to be the catch of the day but some caught fall fish, golden shiners, did see a small largemouth bass and one rock bass. Most made it to the measuring board to get recorded for length, some were fat and healthy others were short and skinny, but they all counted in different age groups. Did I say it was wet, the worms were even swimming in the worm boxes before they went swimming in the water attached to a hook. There were lots of calls, needing another worm so some fish just got fed and not caught, I guess they were the smart ones that were down there in schools. I know you're heard of a school of fish; some learn their lessons and don't get caught. There were some tears when the big ones got away, or they are catching them over there and I'm not but from what I saw most everyone at least caught a fish. If they didn't, they didn't have a line in the water. Right as the last group of kids were pulling their lines one little boy on the other side of the raft said I didn't catch any fish and I called him over and handed him a pole I had in the water and sure enough he had a fish on which made his day and mine. Thanks to Paul Chambers who organizes this event each fall and gets everyone to volunteer for his event. It gets the kids away from their cell phone and out on the water to catch a fish so their parents can take a picture with their cell phone. For many of these kids it may be the first fish they have ever caught but I hope not the last.
This gets you away from the events taking place that day as the Country of Israel is being invaded by Hamas from the Gaza Strip. Invaders blew holes in some of Israel's defensive walls to get into the country on the ground while shelling the Cities with thousands of rockets from the air. Israel's iron curtain air defense couldn't stop all the rockets from hitting their targets which killed several hundred people. The invaders also hit an outdoor music event not far from the border and killed several hundred people there plus taking 200 hostages and some soldiers back into the Gaza Strip to be held for ransom. Israel's rule over the Palestinian's living in the Gaza Strip is the cause for this invasion into Israel. It is now an all-out war between the two factions which could bring in many more players before it is over.
On Sunday a 6.4 earthquake hit in western Afghanistan's Zinda Jan district without warning. Many of the men were outside working while the women and children were in their mud brick homes. These homes collapsed within seconds trapping and killing the occupants inside before they could get out. The death toll is over 2,000 with many more missing. A second aftershock of 4.1 on Monday put off rescue efforts and kept relief supplies from reaching the area.
A Gulf Coast storm is reported to hit the southern US this week bringing much needed rainfall, but the three to five inches of rainfall may cause flash flooding to the area. It may help the areas along the Mississippi River who get their drinking water from the river from having their water supply from being back washed with salt water from downstream. Upstream areas are also in a drought situation and this rain may keep the salt water from moving further upstream.
On Sunday I went up to the Adirondack Center for Loon Conservation's fall celebration at Paul Smith's VIC. A silent auction of related Loon items, Loon calling contest, music by Blessid Dirt in the big room overlooking Heron Marsh, lecture by Dr. Mark Pokras on how and why some Loons die in the wild. His research for over 50 years in rehabilitation and findings on what Loons and other wildlife die of was very interesting. Loon friendly lakes awards were given out and lead collecting contributors were acknowledged. The Hornbeck canoe raffle drawing was drawn while I was out at a station on the Heron Marsh Trail giving information on loons hatching and growing up. I didn't hear that I won the canoe, and I didn't get the winner information, but someone won. Of course, it rained most of the time I was out on the trail system at the VIC.
Before the celebration started, I walked some of the trail systems including the Boreal Life Trail, Barnum Brook Trail and the Heron Marsh Trail. The Boreal Life Trail has a long boardwalk going across a beautiful bog area along Barnum Pond Outlet. It would be better if the orchids were in bloom, but the pitcher plants were all in their bright red colors of fall and winter. On the corner of the Barnum Brook Trail right near the barrier dam they have built a large wooden megaphone that increases the sound of the water going over the dam listening from the small end, a highlight of the trail system. It might be kind of neat to be there to listen to a thunderstorm in the distance.
I did stop at Lake Clear before going to the VIC. Looking from the canoe access, I could see some loons over in the right-hand bay, but the rest of the lake was an ocean. There was going to be a planned canoe trip today out among the fifty to sixty loons that gather there this time of the year to fish. I hope they had better weather as I saw on Facebook there was snow on Whiteface Mountain overnight.
A lot of the color is gone but the tamaracks are just turning their bright yellow of fall, but that's another story. See ya.
Above photo: Kid's Day Fishing in Inlet
Click to view larger photo for Gary Lee megaphone Paul Smits viC