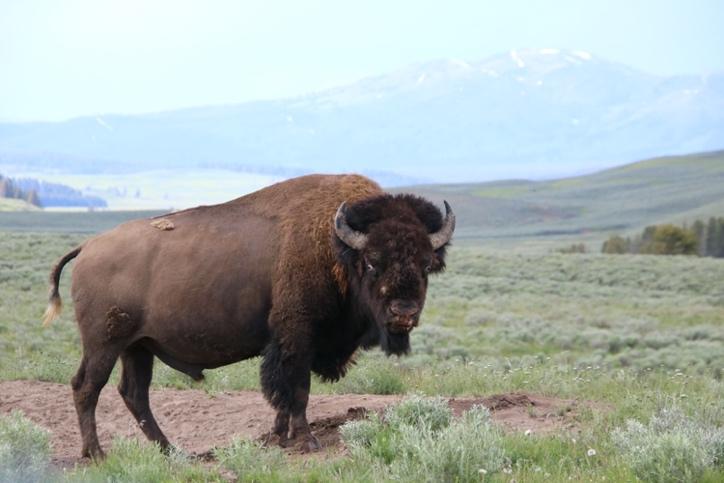 Outdoor Adventures with Gary Lee - Vol. 212
Here we go into Yellowstone Park from the West Entrance for the third time, but many adventures have occurred on the days before this day on our family adventures westward. I'll fill in as we travel west in my next couple adventures. Here we just went from Montana into Wyoming going into the park. We think we live in resort towns in the Adirondacks, but our motel, the Three Bears Inn, has more than four hundred units which were all full.
Starting west traveling with my son Jason, his wife Kelly and grandson Nathan. It took two days to reach our first stop which was the Badlands in South Dakota. This unique natural wonder that just pops out of miles of grasslands and corn fields across the Midwest is certainly special. Stops throughout this National Park were all different, some with just a short walk, others you could walk a longer distance and see many different rock formations and colors in the rocks. Of course, with me I was always watching the birds and wildlife that we might see along the way and here it was no different. Had to learn some new bird songs and put the binos up for some long- distance views of wildlife, sometimes you didn't even need the binos as you could touch some of this wildlife if you dared. There were some mosquitoes in places that you had to swat but there were lots of swallows picking them off to feed their young. One stop there was a colony of cliff swallows with over one hundred nests that had young being fed within my reach. At the end of the hike to a lookout we scanned the far ridges and there were a few Big Horned Sheep roaming around among the rock ledges. Even found a Say's Phoebe nest right under the boardwalk. My grandson Nathan liked my camera with the long lens, and he was my cameraman. My little hand-held pocket camera actually has more zoom than the big camera, but harder to hold. Everyone had a camera in their phone but me, well mine has a camera but never used. Pictures were taken of everything, but you will only get to see a few of these over the next few weeks.
We took lots of shots of the different rock formations which changed at every turn in the road. Had Canyon Wrens singing at every turn and Spotted Towhees were singing in most of the patches of junipers which had an odor of their own. We spent a few hours walking some of the different trails that went to unique lookouts.
From there we traveled to Mount Rushmore National Monument in time to see the light show at nine, when they light up the President's faces. We had dinner there waiting for the show and had to have a buffalo burger. Thunderstorms were looming but the show went on and they just got them lit up and down it came with lightning for a backdrop and very strong winds but no hail which had been predicted. We waited a short time then made a dash for the car and didn't get too wet.
Our third day started with a trip to Devils Tower National Monument which just pops out of the flat farmlands and dominates the landscape. We took the hike all the way around this very different natural feature of nature. There were some neat flowers and some birds, one a Cordilleran Flycatcher, which was a lifer for me, so I got hugs from Kelly.
From there we traveled further westward toward Yellowstone Park driving right through some very dark clouds with lightning to both sides of us. The weather forecast was for t-storms with ball size hail so I'm glad they missed us. We got in the eastern gate of Yellowstone National Park late and we had to travel across the park to our motel in West Yellowstone. We saw on that trip before we got into the park, Kelly yelled 'Moose' and sure enough there was a Moose feeding along a stream and we went back and got some good photos of this small bull. Just down the road there were four more Moose and some Elk, and we weren't even in the park yet. It was growing darker and once in the park we saw lots of Bison, some right in the road and in the dark it was scary. One walked right down the shoulder, and you could have touched it out the window as it went by. We made it to West Yellowstone with no dents but lots of encounters with Bison.
We've been here for three days, so lots of stories to tell about this beautiful park, but that's another story. See ya.
Click to view larger photo for Yellowstone Animal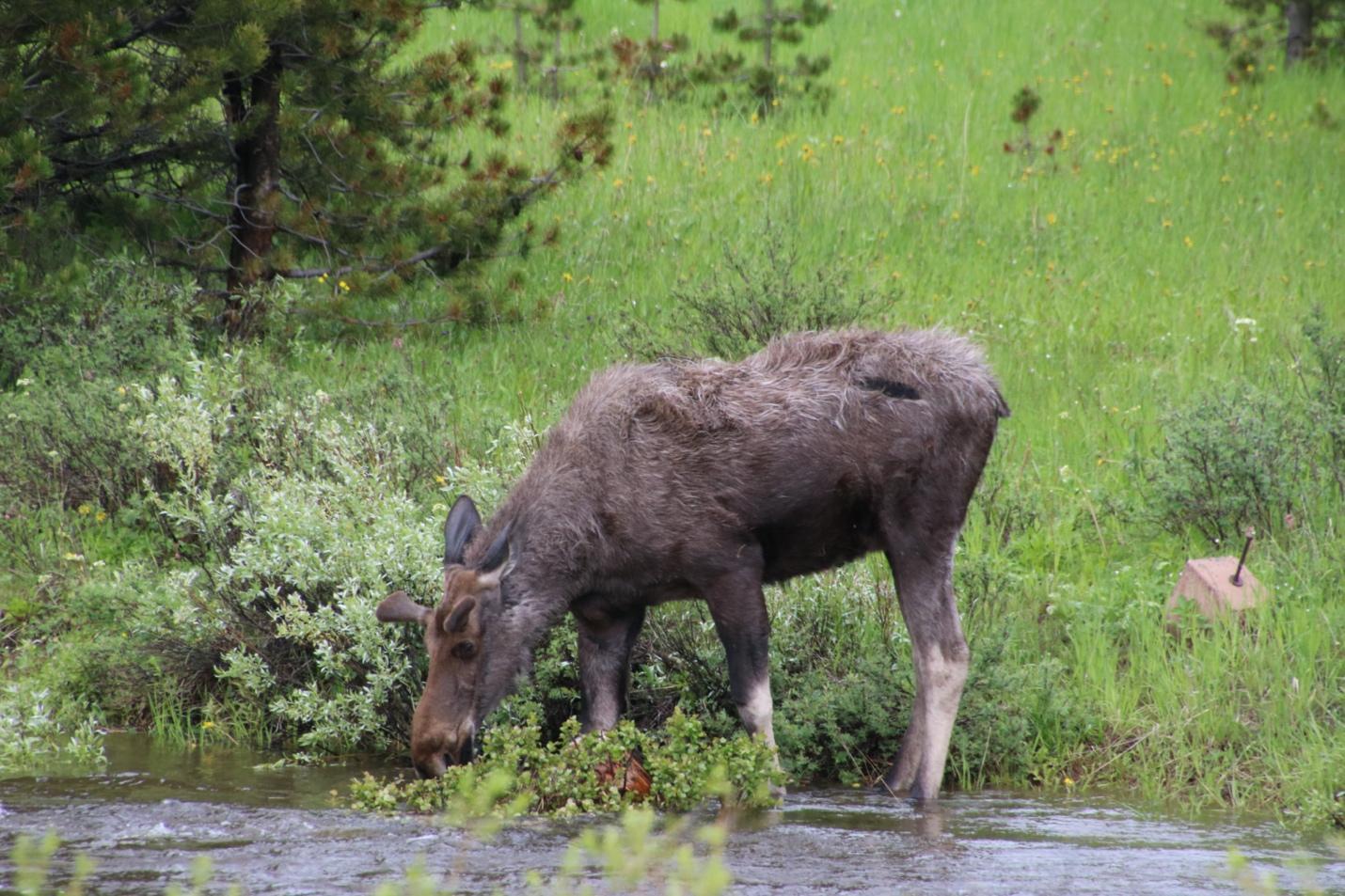 Click to view larger photo for Yellowstone Park Animal