Overview
41st Annual Adirondacks National Exhibition of American Watercolors will open starting August 6 - September 25 at View. Our signature exhibit, ANEAW is open to artists from across the nation who work in water-based media. This includes transparent and opaque watercolors, casein, egg tempera, gouache, acrylic and ink. Every year, this exhibit reminds us again of Miriam Kashiwa, founder and abiding inspiration for View.
During our opening weekend, August 6 & 7, there will be half off admission to the galleries.
An opening reception and award ceremony will be held for View Members & Exhibiting Artists on August 5th from 5-7pm. The reception starts at 4pm with a special preview for Exhibiting Artists and Long View Council Members, then will open to View Members from 5-7pm. The reception will feature live music, cash bar and hors d'oeuvres. Join us to celebrate the 41st Annual Adirondacks National Exhibition of American Watercolors and our current exhibitions. Become a member and join us for the reception!
View is open Monday-Saturday: 10am-4pm; Sunday: 12-4pm. Gallery admission is $10 and free for members of View. For more information, visit ViewArts.org or call 315-369-6411.
---
Join us Saturday August 6 for a Lecture and Breakfast with E. Jane Stoddard, NWS, TWSA-MASTER! Starting at 9am, our Juror of Awards will be discussing a selection of the paintings featured in this year's exhibition and demonstrating her artistic process. Registration is required prior to the event.
Juror E. Jane Stoddard, NWS, TWSA-Master is an accomplished and award winning artist with multiple Signature Affiliations. She started her art career as an oil painter and her love of detail carried over to watercolor. She strongly believes in doing all of her own drawing and believes that strong composition is critical to good painting. Her multiple layers of transparent watercolor create deep rich darks and dramatic color. Jane has traveled extensively in search of new subjects to paint and is attracted to boats, market scenes, and most recently still life. Jane has entered, been accepted to and participated in hundreds of national shows during her painting career winning numerous awards along the way and her very first national award was at the Adirondacks National Exhibition of American Watercolors – the circle is complete!
For any questions regarding the exhibition please contact:
Katie Corasanti and Caitlyn Urbanke
Visual Arts Interns
View Center for Arts & Culture
exhibitions@viewarts.org
315 369 6411 x206
View is a dynamic Center for Arts and Culture based in the Adirondack Region of New York State.
Click to view larger photo for DSCN8598web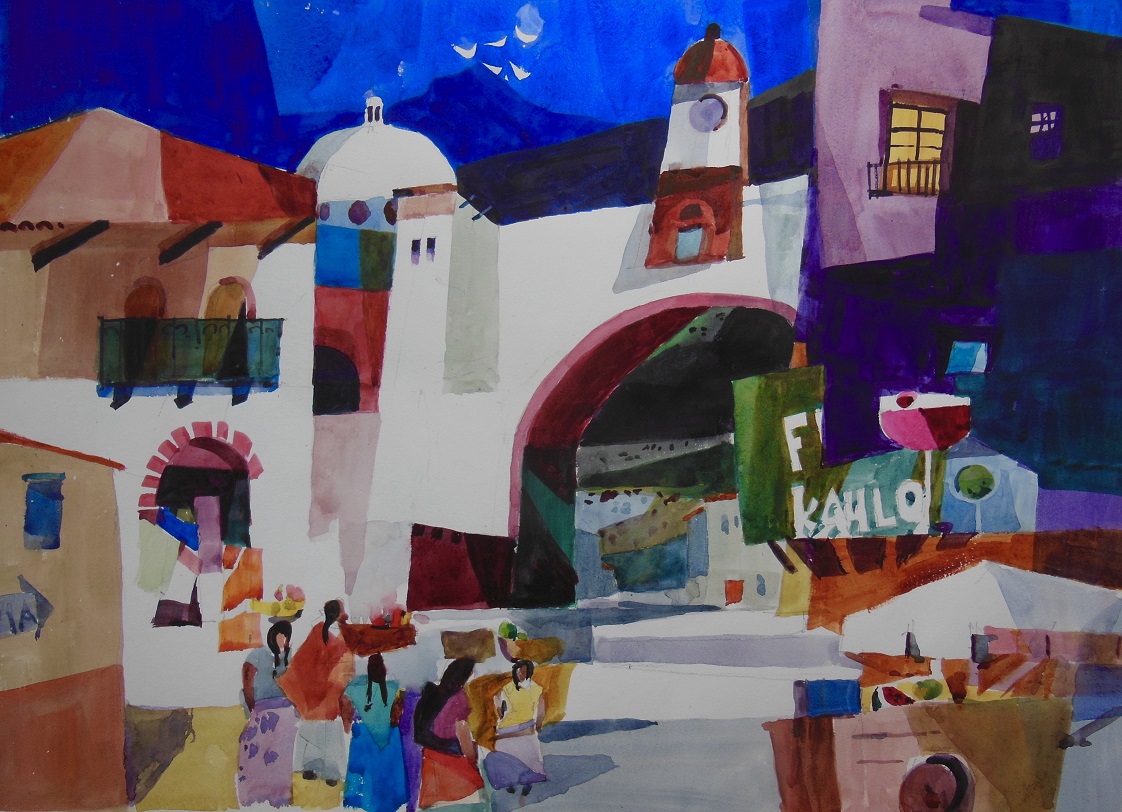 Click to view larger photo for Golden Hourweb v2