Overview
My paintings are the end product of the things that have inspired me on the many hikes my wife and I have taken all over the eastern United States and Canada. The phrase "Inspired by" has been used numerous times in the descriptions of each of my paintings and the natural environment that visually impacted me to do them. The truth is that God's handiwork was the impetus to do all of these paintings, but like most artists, I am prone to changing things as I go. I know that I could never improve on the works of God, but His canvas is unlimited in scope while I am confined to these little rectangles I paint on. Though I tried to stay true to the main elements of the design that inspired me, with apologies to God, subtle changes were made. Sometimes the light was manipulated to provide better contrast or more clarity for the viewer. Sometimes changes were made to create more depth or lead the viewer's eye through the painting. Sometimes changes were made for the sake of color harmony, historical significance, symbolism in the telling of a story, or to bring more life or movement to that story. In closing, I would like to thank God for all the inspirations that He provided, and I pray that the manipulations I felt necessary for each painting, were the result of His guidance.
"In painting, a realist is merely an impressionist with a little more patience…and a smaller brush."
Carl Frederick Lawrenson, (b.1949) grew up in Susquehanna, a small town in the northeastern part of Pennsylvania. He attended Mansfield State College from 1967 to 1971 majoring in art education. Since graduation he has spent much of his life teaching art, coaching basketball and painting in northern Tioga County, a rural area in the mountains of north central PA.
Fred's paintings have placed in several regional juried exhibits along with receiving 6 viewer's choice awards. In 2003 Fred was juried into the World Nature Artist Group, AKA Artists for Conservation. He is also a juried Pennsylvania Wilds Artisan and a juried member of the Elmira Regional Art Society.
His painting "Origins" was selected to the Paint America top 100 in 2007 and went on a national tour with the other selections throughout 2008. He again made the Paint America Top 100 in 2010 with his painting "Tanglewood Touchdown" which was on tour throughout 2011. This painting also won the Palette Award at the ERAS exhibit presented at the Arnot Art Museum in December of 2012. In 2010 he published a children's book, that He wrote and illustrated, titled "Shalock and the Cloud of Bad Dreams" which was a national finalist in the USA Best Book Awards competition for soft cover children's fiction literature, sponsored by USA Book News. In 2012 Fred published his 2nd book, "In Search of the Great Wild Kawkins" which was also selected as a USA Best Book Awards national finalist. Two more of his paintings "After the Rain" and "Abram's Falls" were selected to the national "Paint the Parks" top 100 and were on a museum tour throughout 2015 and most of 2016. In the spring of 2016 Fred published a hard cover coffee table book titled "All the Difference". This book features full color images of 56 of his paintings along with some drawings, some details, and the stories behind each painting. This book was one of 3 national finalists in the art category of the USA Best Books competition. Signed copies of his books are available directly from the artist. Contact info is found on the websites below.
Click to view larger photo for StakingOutAClaim v2.CFLawrenson 1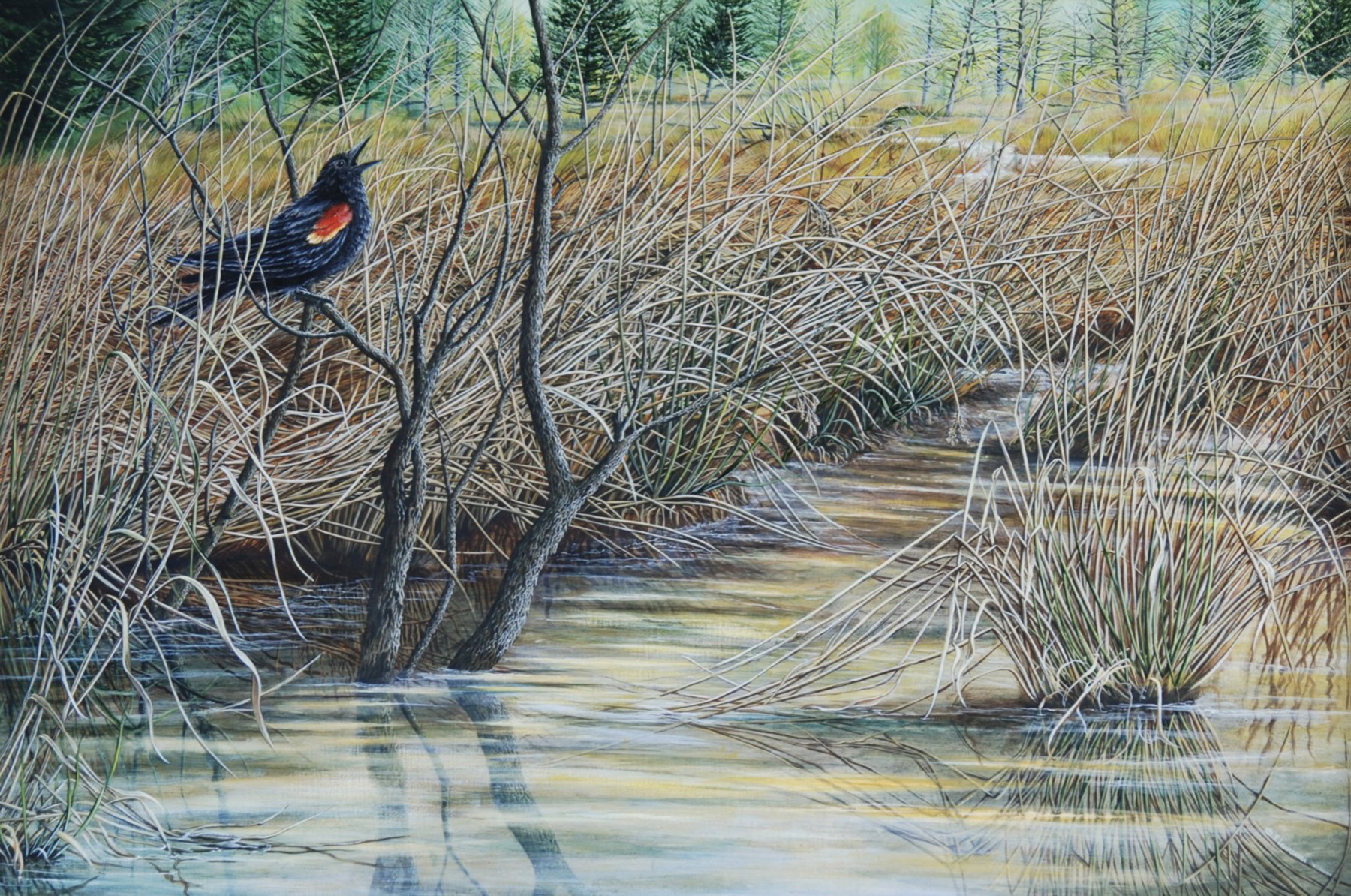 Click to view larger photo for UnitedWeStand.CFLawrenson 1