Overview
Enjoy Fall in the Adirondacks | October 16-18
Register today! During the annual Quilts Unlimited Exhibition, View will host the 3rd annual ADK Quilt Conference on October 16-18. Choose from multiple workshops featuring both traditional and art quilting techniques, enjoy informal presentations from experts in the field, -and best of all- network with fellow quilters.
Complete 3 Day Package: $400
Includes Opening Reception, two days of workshops, presentations, and all meals (two breakfasts, two lunches, and two dinners).
Complete Tuesday Package: $250
Complete Wednesday Package: $225
Monday October 16:
5pm-7pm Opening reception and meet & greet
Delicious catered dinner
Presentation Trunk Show by Pat Harrison, "Coloring Your Quilt"
Tuesday October 17:
8am-9am - Breakfast at View
9am-4pm (includes lunch - 12pm-1pm)
Strippy Scrappy Quilts, with Pat Harrison
or
Collaborative Art Initiative, with Cynthia Busic-Snyder
or
Thread Painting and Thread Sketching Combined, with Nancy Prince
5pm - Catered Dinner followed, and presentation by Nancy Prince "So What is Thread Painting All About?"
Wednesday October 18:
8am-9am - Breakfast at View
Choose between a full day class or 2 half-day classes
9am-4pm - Easy Peasy Circles, with Pat Harrison (includes an hour lunch break - 12pm - 1pm)
or
9am-12pm -

Plastic Nature, with Natalya Khorover
or
9am-12pm -

Simple Thread Painting, with Nancy Prince

12pm-1pm - Lunch with Lecture, "Alternative Stitching Practices" by Natalya Khorover
1pm-4pm -Textural Style with Natalya Khorover
or
1pm-4pm -

Country Threads with Nancy Prince
4pm - Conference Ends
Class Descriptions
PLASTIC NATURE
Here's a creative way to help clean up our planet: make art from single-use plastic bags. Make art inspired by nature with guidance on cutting, stitching, & finishes. 3-hour workshop *Materials List will be sent out after registration.

TEXTURAL STYLE
A collection of diverse tidbits holds a great deal of promise. Transform bits of vintage lace & snippets of shiny Lycra into a beautiful background or a stand-alone composition. Experiment by adding unusual threads, collected thread snippings and yarns for added texture. *Material List will be sent after registration.
STRIPPY SCRAPPY QUILT
Put fabric scraps to dynamic use. All techniques are demonstrated and samples are abundant. Incorporates basic quilt making techniques. *Material List will be sent after registration.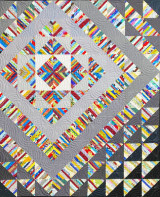 EASY PEASY CIRCLES
Learn how to easily and evenly piece circles into your quilts using the "freezer paper frame – glue baste – heat it – stitch" method. Piece circles into an existing quilt top or a block for a quilt. *Materials List will be sent after registration.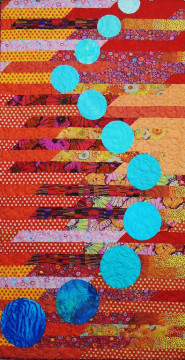 THREAD PAINTING AND THREAD SKETCHING COMBINED
Create magic right before your eyes! A preprinted design easily guides you through each step. You will be amazed at how a straight and zigzag stitch can create a beautiful composition. *Materials List will be sent after registration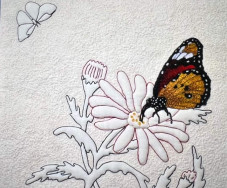 SIMPLE THREAD PAINTING
Never thread painted before? Then this workshop is a great place to start. The straight and zigzag stitches are the little work horses. A preprinted design easily guides you through each step so there is no stress about how to proceed. 3 hour workshop.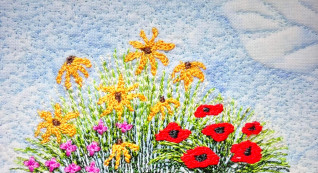 Simple Thread Painting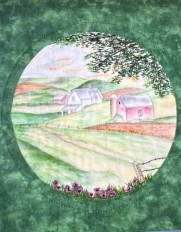 Country Threads
Quilters will explore and strengthen their own brainstorming/ideation skills. Every participant will be given the same one-word prompt, & begin a 15" x 15" composition (in fabric) to illustrate the concept. Following the lunch break, each artist randomly draws a new composition from a pile/bag to complete. Participants are asked to go through the problem-solving process again, starting with a composition from another artist. At the end of the day, there will be a short discussion about creativity, problem-solving and ownership of the outcome in the collaborative process. This thinking activity is intended to expand artists' approach to their work and composition. It is not appropriate for a beginner looking to learn a sewing technique or specific pattern or process. *Materials List will be sent after registration.